Don't think you're better than the humble gold pan.
You're not. Nobody is above the pan.
Gold panning is something everyone does. Even the bosses of multi-million-dollar mining operations like Shawn Pomrenke and Parker Schnabel still use their gold pans to find the paystreak. Professional Prospectors like Dan Hurd and Chris Ralph wield their pans to find rich gold claims.
Mastering the pan is table stakes for making it in the gold hunting business, whether you're a mine owner or just prospecting for fun.
We compared pans and talked to miners and people in the field about what's their favorite gold pan and why. We'll go over what they recommend and all the different options to help you find your perfect pan.
Gold Pan Size
The first thing you want to look at when buying a gold pan is the size. Most are made of plastic so they're lightweight but you need to remember it's going to get filled with rocks, sand, water and hopefully, heavy gold! This will make it considerably heavier, in this case, size does matter.
Large Gold Pans are between 15″ to 24″. If you are going to rely on a gold pan as your primary source of processing material, it would be wise to consider a pan that is 16 inches or larger. This is because the larger the pan, the more material you can process at once. They're good if you don't plan on using a sluice box or other recovery method besides panning, but this is typically not a great choice for a beginner.
Standard Sized Gold Pans are between 14″ to 16″. The standard pans available have the ideal combination of usability, portability, and capacity. They hit that Goldilocks spot for the majority of panning needs. 15″ seems to be the most common size.
Small Gold Pans are between 10″ to 12″. They're great for kids and for panning cons, or concentrates, to finish cleaning gold. They're also great for panning paydirt.
A good rule of thumb is to measure the pan against your forearm. The widest part should fit between your elbow and the palm of your hand. If the top lip goes beyond your fingers, you probably want to get a smaller pan to help reduce the strain on your body from hours of panning. This is especially important when picking a gold pan out for kids. Like with any rule in life, there are some exceptions but it's a good starting point for a beginner.
Gold Pan Colors
When most people think of a gold pan, they usually think of green as that's the most common color you see when people are panning for gold in media. Nowadays, though, gold pans come in a variety of colors beyond the basic green.
Green pans for panning gold are great because they show the gold and black sands easily in the pan. The biggest downside though is that they blend in with most surroundings and can be misplaced or forgotten about when you're packing up to hit your next hotspot. Some prospectors put bright colored tape on their green pans so they don't lose them, just like gold snipers do with their snifter bottles.
Black gold pans will show that shiny gold like a beacon, but can be hard to use out in the field where the blacks sands will blend in with the pan and cover your shiny gold. They're best for panning concentrates after you've already sent the gold through a sluice box or gold cube and removed the black sands.
Blue gold pans are great to use when you're out and about prospecting. They will clearly show your shiny stuff and the black sands. Blue gold pans don't blend in with outdoor settings where they can be forgotten about and left behind.
More "exotic" colors like hot pink and purple are growing in popularity. These colors help highlight the gold when you're panning, and are also fun and different. But really bright colors can cause eye strain after staring at it for hours, so may not be the best choice for a long prospecting trip.
Choosing the color of your gold pan really comes down to what works best for you, your personal preference and what you're using it for.
Different Riffles and What They're For
Back in the old Gold Rush days, miners were working with metal pans that had smooth walls. With the ability to create plastic pans, riffles were added to help make gold recovery easier. Riffles are one of the only significant "innovations" made to gold panning in the last two centuries.
Riffles help trap the heavier gold while allowing rocks, sand and other material to be washed out when panning for gold. The gold makes it way to the bottom of the pan when you swish it around where it gets trapped so it doesn't wash out of your gold pan as you clear the excess stuff you don't want.
There are two main types of riffles and each are used for a different reason. Many gold pans have both large and small to offer the most flexibility. The type of riffles you pick affects how much gold your pan can catch and how much material you can work with.
Large riffles are better for dealing with larger materials like river rocks and pebbles. They can help you sort through a lot of material quickly. But, they're not very good for finding small pieces of gold which is the majority of placer gold. They're usually not used when panning concentrates because they don't catch all the tiny flecks.
Small riffles are great when you're working with mostly sand or concentrates. They help catch a lot of that fine gold dust.
A pan that has large and small riffles are great for taking with you when you're out prospecting, looking for a new hotspot. They will allow you to pan course material to catch those gold nuggets along with the finer sands to get the most gold recovery.
Plastic or Metal Gold Pans?
There are some prospectors that swear by panning with a metal gold pan. It's more durable and has that old time authentic feel to it. There are a few problems, though, with metals pans that you don't get with a plastic gold pan. These differences can be a deal breaker for most prospectors.
The first issue is that metal pans rust, which is a problem if you're continually putting them in water and shaking rocks, sand and gold around in them. It's hard to see the fine gold on a rusty pan.
The second problem is that gold likes to hangout with other heavy metals like iron. The easiest way to separate these metals from the gold (if they're ferromagnetic) is with a magnet. But if your pan is also magnetic you're going to have a hard time.
Overall, we think there isn't any real benefit to using a metal gold pan unless you're going for that real authentic 1900's gold miner experience.
In fact, the gold pan plays a key role in this story...

On a beautiful early summer day, high up in the mountains somewhere out West, two prospectors were hunting for gold. They were very alike, these two prospectors. Both caught gold fever after finding a few flakes in a local creek. Both had studied the art and science of finding gold, both had invested in the latest equipment and both – as new prospectors are – were filled with dreams of hitting the motherlode.

Recently, those two prospectors met up for a beer.

They were still very much alike. Both were happily married. Both had interesting careers. And both, it turned out, still loved gold.

But there was a difference. One of the prospectors had given up hunting for gold altogether. His gold pan gathered dust in the corner of the garage and he decided instead to buy gold coins online and stash them in his sock drawer.

He hunts deals these days, comparing prices on bullion sites. The only skill he has mastered is saving a few bucks on the new American Eagle 1 oz coin.

The other has a rapidly-filling jar of placer gold at home and is about to buy his first claim. He recovers his own gold from the dirt.

His accomplishments allow him access to the exclusive club of successful prospectors who swap tips and tricks of the trade. And his gold, when he passes it down to his children, is accompanied by rich stories of adventure and discovery, and important life lessons.

Now the (literally) million-dollar question: What made the difference?



Click here to read the story "A Tale of Two Prospectors"
Best Gold Pan for Prospecting Rivers and Creeks: Garrett SuperSluice 15″
When choosing the best gold pan, a lot of it does come down to personal preference, what you're comfortable with, the ease of use and the type of material you'll be panning. Your favorite gold pan to use when panning a bag of paydirt might be different from the one you take with you when you go panning on one of the 20 rivers with gold where you can still go panning in North America.
There was one gold pan that kept coming up when it came to prospecting on rivers and creeks and had consistent 5 stars reviews online. The Garrett SuperSluice 15 inch is great for a day of panning on the river, especially with the larger material you'll be panning with.
This pan isn't too big that you'll break your back or end up with spaghetti arms after a couple hours of panning. Most prospectors prefer large riffles over small ones stream-side to help move big rocks fast. It isn't harsh on the eyes while looking for the smallest specks of that shiny gold and will help you find those chunkier nuggets.
Prospectors Recommendation – Garrett SuperSluice 15″ Pan
Best Overall Gold Pan for Beginners and Pros: Minelab Pro 15″
It's hard to get a bunch of gold prospectors to agree on anything but most agree that the Minelab Pro 15″ Gold Pan with Dual Riffles is the best all around pan for its versatility in many different settings.
The dual riffles make it the go to whether you're panning in a stream or a bag of paydirt in your own backyard. The dual riffles help you chew through course material or small sandy material. It's the best pan for beginners because they can get the feel of how to use the different riffles and won't break the bank.
I know Alex and Emily and their crew prefer their pans to be blue when they're cleaning out the sluice box on the Eroica.
Some folks also prefer it over the Garrett Super Sluice because the deep riffles on the Garret pan are a dealbreaker. These riffles are much more manageable according to some reviewers.
Prospectors Recommendation – MineLab Pro 15″ Dual Riffle Gold Pan
It also comes in a great kit if you're just starting out. You'll want a few more tools than just a gold pan if you go prospecting down at the creek This kit has it all with 2 pans (a larger one and a smaller finishing pan), a classifier to quickly get rid of large rocks, a magnet, a magnifier, snuffer bottle, pipette, & vials to hold your gold. It's the only purchase you'll need to make to start finding your own golden treasure.
Prospectors Recommendation – The Minelab Pro Complete Gold Panning Kit
Best Gold Pan for Panning Concentrates: Stansport 10.5″
After you've run your haul of paydirt through a sluice and only have your cons left to pan, this is the pan most prospectors use, including Emily Riedel.
Make sure you get the Stansport Professional 10.5″ pan if you want to use it for panning cons as it doesn't have an edge lip that can stop some of the finer sands from easily washing out. It's also small and light with only a few light riffles and a lot of smooth wall, making it the perfect for late-stage precision.
Prospectors Recommendation – Stansport Professional 10.5″ Gold Pan
Different Gold Pan Shapes Beyond the Circle
Turbo Pan 16″ Green Gold Pan Vortex Action
Prospectors Recommendation – Turbo Pan 16″ Gold Pan with Vortex Action
On the flip side, according to one reviewer it makes for a great kibble bowl for Fido in the offseason
Gold Claw 12″ New Production Gold Prospecting Pan
Prospectors Recommendation – Gold Claw 12″ Gold Pan
But many prospectors we talked to love the Gold Claw and say it's their favorite pan. Those who love it, love it, and it comes in some fun colors to boot.
Nugget Stalker Doc's Gold Spot™ Treasure Scoop Portable Gold Pan Green
One of my personal favorites for pure inventiveness is the Nugget Stalker Doc's Gold Spot™ Treasure Scoop Portable Gold Pan. It's literally a scoop with riffles.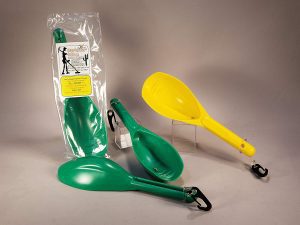 Prospectors Recommendation – Nugget Stalker Doc's Gold Spot™ Treasure Scoop Portable Gold Pan
You won't be panning any large, or even medium, quantities of material with these but they're a game changer for detectorists trying to save time digging up targets.
Protip: Season Your Pan Before You Use it
Many people get their shiny new pan and are excited to fill it with shiny gold. But don't forget to season it! Your shiny new plastic gold pan usually has a thin, slick film over it from factory oils.
Before you take it for a test pan, you should wash it with some soap and water first to get rid of that slippery residue or your fine gold might just slip right out.
Another trick is to take some sand or gravel and lightly run it over the bottom of the pan to help create micro scratches that will help trap that fine placer gold.
Conclusion
When it comes to gold pans finding the right one for you to go panning comes down to personal preference but also what you want to pan. The biggest take away we've learned talking to miners and prospectors who are gold panning day in and day out is that they tend to have different pans that they use for different jobs.
While there is no single perfect gold pan everyone can agree there are ones that are perfect for specific situations. I have yet to meet a gold prospector that only has one pan they use. Like a mechanic that has dozens of wrenches to choose from, the right pan for the right job can make all the difference.
Looking for the perfect gift for the gold prospector in your life or even for yourself? Don't miss our article called "Strike Gold with These 12 Gifts for Prospectors" with more great gear to get out there and get to panning!