In a recent video on Youtube, which received over 125,000 views in just 10 days, he hits a honey hole that most prospectors only dream of.
Rob found crevices filled with gold, putting over $10,000 of the shiny stuff in his pocket in just hours of work – a rate of gold production that I would be happy with as a Bering Sea gold diver.
The difference between us? When I dive I run a big 10″ dredge nozzle powered by a 100-hp motor. Rob Parsons was armed with was a snorkel and a plastic snuffer bottle.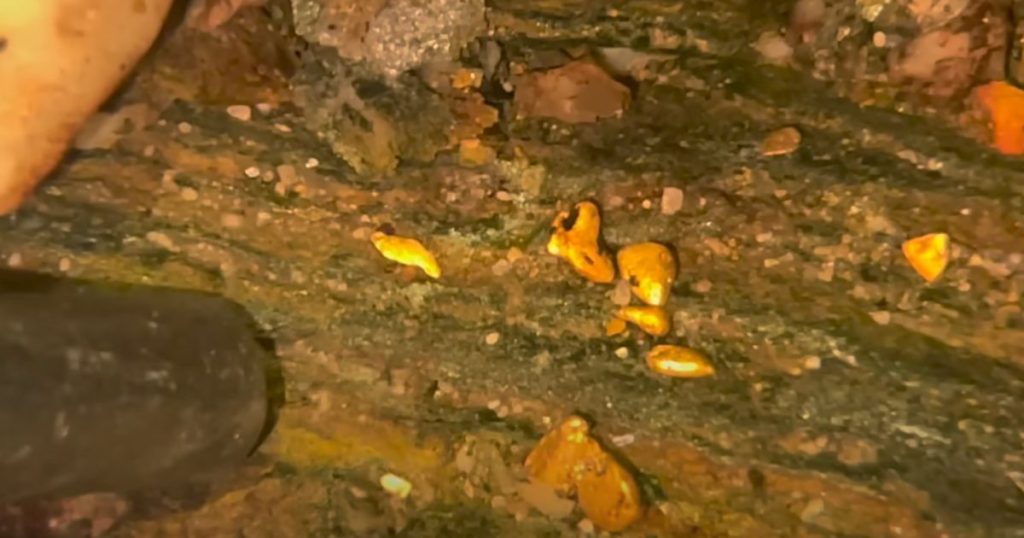 But his journey to hitting the motherlode wasn't easy.
Rob Parsons' difficult journey learning to find gold in Tasmania
Rob started his Youtube channel in 2019 with nothing but a camera, a "passion for the outdoors", and a dream to rediscover Tasmania's forgotten gold fields.
Tasmania has quietly been one of the richest gold producers in the South Pacific – often overshadowed by the bigger, richer gold fields of mainland Australia.
Gold is primarily found on the northeastern part of the island. Major discoveries date as far back as the 1840s. But it doesn't have the international reputation for gold hunting – thanks to reality television – enjoyed by mainland Australia, Alaska or the Yukon Territory in Canada.
This leaves a ripe opportunity for historically-minded prospectors like Rob to get on some virgin ground.
But that doesn't mean it's easy. In the video of his epic two-day run Rob describes his story as one of "failure," not "success." When he started filming four years ago he knew nothing about how to find gold.
In his first 18 months of trying he only found 1 measly gram!
He tried a range of different techniques, failed at them all, but never gave up.
About 18 months into his journey, Rob told an ABC Radio host, he started to hit his stride when he found 40 grams of gold in about 3 weeks.
And after that? All of the lessons he learned about hunting for gold in the remote creeks of Tasmania set him up for the find of a lifetime.
Buy gold from your favorite (obviously) Bering Sea Gold cast member!
Buy real gold straight from the Bering Sea via the Eroica's sluice box.
We know where it's from, because we sucked it up the nozzle ourselves.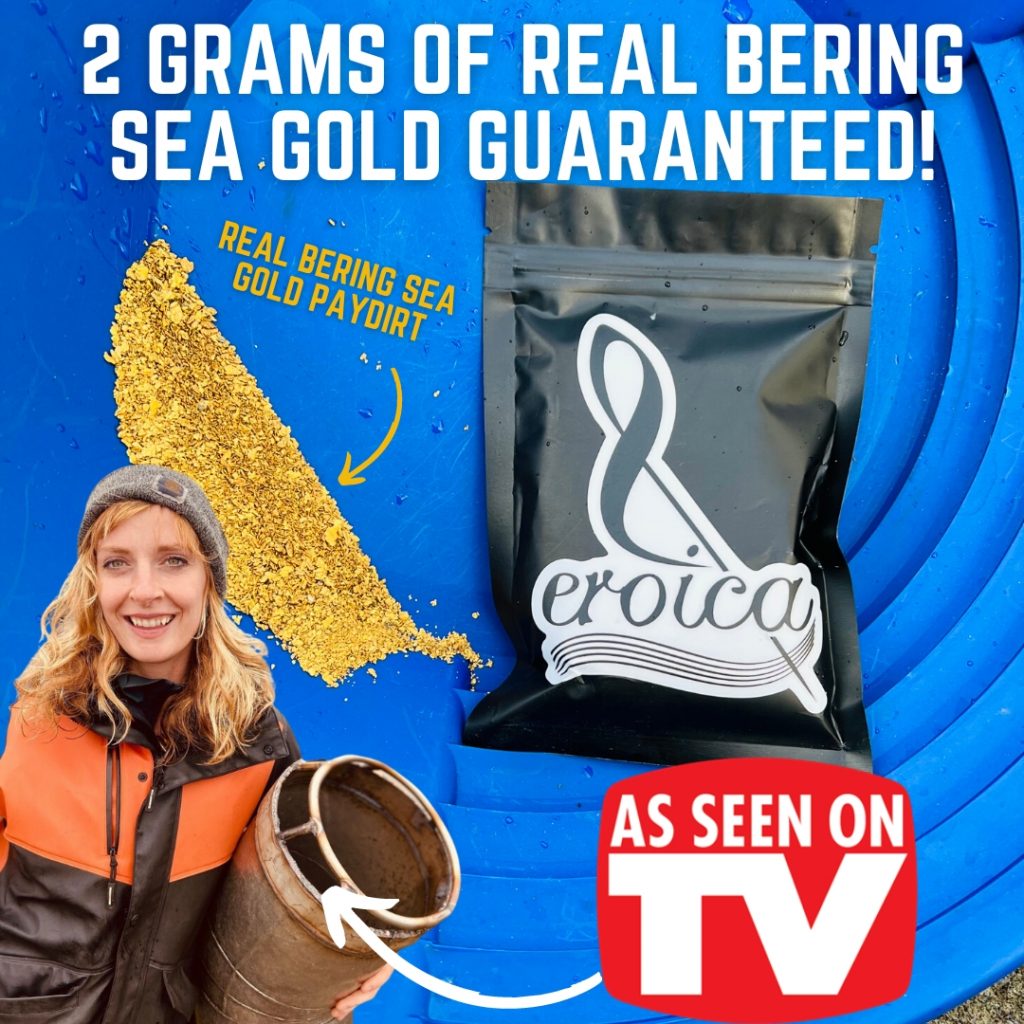 Get 10% Off your first purchase of anything in our shop, including Gold Paydirt and Gold by the Gram, when you sign up for our newsletter!
The two days that "reshaped what I thought was possible with gold prospecting in Tasmania"
"This is 100% ancient Tasmania."
After a 10 minute introduction, Rob's video journey opens with him bushwhacking to a creek that he believes hasn't been prospected in 100 years.
He identifies a section of creek with good potential to find gold with "lazy technique" – which is the way he describes gold sniping in an interview with ABC Radio.
Gold sniping is a technique that involves exploring underwater bedrock crevices for gold in shallow streams and rivers. It's a popular technique with young prospectors because it doesn't require tons of expensive equipment or shoveling, and the lack of motors and machinery means it's a permissible prospecting technique in many environmentally-sensitive areas.
The bedrock is shallow, and it steps down into the water on the inside corner of a creek bend. If there's crevices there, Rob says, he guarantees there will be gold.
And he was right.
Rob immediately gets on the gold – finding pockets of the shiny stuff in a bedrock formation that looks like a perfect natural underwater sluice.
He works for several hours and guesses he finds 20 grams – a personal record. Rob camps out for the night, and gets back to work the next day.
Rob checks several more promising spots on day 2. Some have good gold, and some don't. When he has just an hour left before he needs to pack out, he decides to check one more spot.
This one is the honey hole, and proves the riches go to those who go the extra mile.
He's finding coarse gold, pickers and nuggets with ease. The gold is so rich that he stays an extra hour, determining he'll pack out using a flashlight if necessary.
The cleanup is epic. I won't give his exact numbers away – you should watch the video and see what he gets for yourself.
Rob promises his next video's gold count is "even bigger"
At the end of the video he leaves us with a cliffhanger. Rob says it had been many months since he filmed the footage for that first $10,000 trip.
Why did it take so long to publish?
He tells us he wanted to make sure he was able to get back to that creek and do "a real number on it" before he publicized his find.
But Rob leaves us with this: "If you thought this hole was massive – wait until next video because it's even bigger!"
We can't wait to see it!
Other great gold finds for you to enjoy
If you liked reading about Rob's find, you'll love these other stories from Bering Sea Paydirt:
'I never thought I'd find anything like this in my lifetime' – Two New Zealanders metal detect MONSTER 3.98 ozt gold nugget
'That's better than I've done pretty much anywhere else in the entire world, and I've been all over the place looking for gold': Man finds 23 REAL diamonds and gold dust in NYC Diamond District sidewalks
'I was just about to get out and I just found another one! And it's bigger!': Man snipes two gold nuggets worth $450 in local river
'Scr*w the beach! We should come here from now on': Man Mines Deck of Shawn Pomrenke's Myrtle Irene, Finds BIG Gold