"Russia has sold us a sucked orange!"
The press thought panning for gold in Alaska was a fool's errand. New York World newspaper printed this citrus-themed headline on April 1, 1867 criticizing Secretary of State William Seward's purchase of Alaska from the Russians.
Critics mocked him as a "fool" when he agreed to buy the territory for $7.2 million. They called the empty northern territory "Seward's icebox," "Seward's polar bear garden" and, most famously, "Seward's Folly."
The media thought buying Alaska for its potential gold was a complete waste of time and money. The New York Daily Tribune said this:
"Virtually we get, by an expenditure of seven millions in gold, Sitka and the Prince of Wales Islands. All the rest is waste territory, and no energy of the American people will be sufficient to make mining speculations in the 60th degree north latitude profitable, or to reclaim wilderness which border on the Arctic Ocean. "

New York Daily Tribune, April 11, 1867
Of course, that wasn't just wrong, it was VERY wrong.
Seward was vindicated in 1896 when a major gold deposit was discovered in the Yukon, and Alaska became the major access point to the Klondike gold fields.
Since then, prospectors have discovered gold all over the state in Fairbanks, the Kenai Peninsula, Chicken and, of course, Nome.
The result? Mining speculations were insanely profitable for the Americans, who pulled over 3.2 million ounces of gold out of the state since its purchase in 1867.
That's almost $6 billion at today's gold prices, a measly 800x the price Secretary Seward paid for the Alaskan territory. And that's not counting the even more lucrative seafood and oil industries!
Prospectors and independent miners continue to flock to Alaska, where rich goldfields and a generally pro-mining environment allow the gold rush dream to live on today.
We've listed 19 places you can pan for gold and divided them into 5 major categories, depending on what you want your gold panning experience to look like.
Guided prospecting adventures. In these adventures real prospectors take visitors to an active claim to find gold. These are usually great hands-on experiences for beginners or experts, and provide folks a chance to connect with real Alaskan gold miners. In our opinion these are the most authentic gold prospecting experiences available to visitors.
Panning junkies. Pan as much gold as you want (and can afford) and there's a good chance you'll walk away with a nugget.
Historic mines. Usually these experiences have options for tours and gift shops along with a chance to pan gold. Panning can range from a great experience, to a secondary perk of the stop.
Cruise ship stops. These 2-hour excursions in Southeast Alaska will pick you up from the cruise ship, feed you, get you on the gold, and bring you back in time for departure.
Pan like a real prospector in the Alaska backcountry. These are places where you can get out and prospect for gold on your own without worrying about infringing on someone's claim. But I can't promise you'll be safe from bears.
Guided Prospecting Adventures
Prospector John's in Cooper Landing
See Prospector John's on Google Maps
Website: GoldPan-Alaska.com
On road system
Has cell phone service
Bathrooms with indoor plumbing available in Cooper Landing
No lodging – it's a day trip
Most likely to: hear an epic story
By the time you hit Cooper's Landing on your drive down from Anchorage you'll already be immune to tourist signs.
So you may not realize you're passing a hidden gem when you see the sign that says "GOLD PANNING AND JERKY."
Prospector John's is everything you want in an Alaska experience. It's an authentic backcountry mining adventure guided by real gold miners with deep knowledge and great stories.
John or Mike will take you on a stunning 30-minute boat ride across the opaque glacial waters of Kenai Lake to a private gold claim at Devil's Canyon where they'll give you a pan and a lesson, and let you keep all the gold you find.
You know it's going to be rugged because Prospector John recommends rubber waders, which you can rent for $20.
But that's why you came to Alaska, right?
At $79 the 2-hour gold panning adventure at Devil's Canyon seems to be the sweet spot for new prospectors. John and Mike will take parties of 4-6 people on these trips.
For the more serious prospectors you can take a half-day or full-day trip to Devil's Canyon to run a dredge for $189 and $289, respectively.
If you want to kick back, relax, and pan some gold closer to civilization you can get a bucket of raw gold ore at their shop and for $39 you can run it through a sluice, clean it out, and pan and keep the gold.
I'd call this spot a "hidden gem" because it only has 33 reviews on Google Maps and 45 reviews on TripAdvisor, which isn't a ton for an Alaskan tourist attraction.
But the reviews RAVE about the experience, giving it almost a perfect 5 out of 5 stars across the board.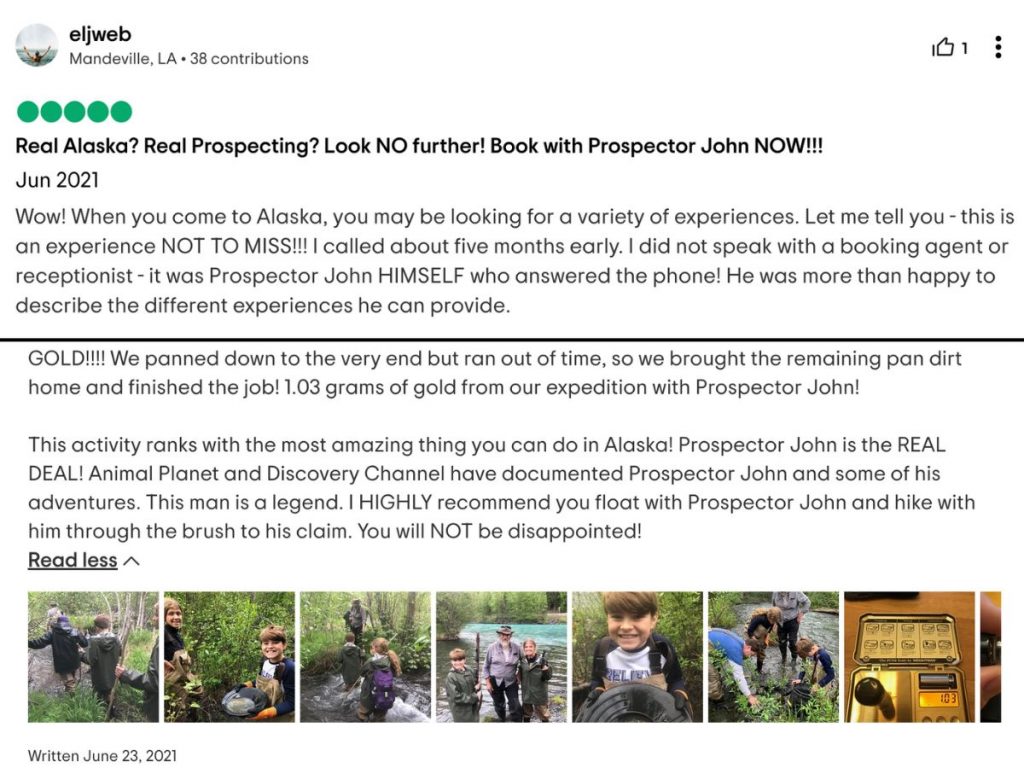 Denali Gold Tours in Trapper Creek
See Denali Gold Tours on Google Maps
Website: DenaliGoldTours.com
On road system
Bathrooms with indoor plumbing <1 mile away at Three Bears in Trapper Creek
No lodging – it's a day trip
Most likely to: learn how to actually prospect for gold in a river
Denali Gold Tours is another small operation where you can go out to an active gold claim in the bush and pan real paydirt straight from the source.
Trapper Creek (population: 304) is one of the many tiny towns on the road from Anchorage to Fairbanks, located right across the Susitna River from the charming town of Talkeetna.
A few years ago, lifelong Alaskan Richard Humphrey started taking visitors 19 miles into the backcountry to find gold. His hunting grounds are the gold-bearing streams of the Cache Creek Mining District, which have been mined since 1905.
According to reviewers, Richard and fellow tour guide Bart make the experience extremely special for visitors with their hilarious stories, extensive knowledge of the land, and the real prospecting skills they pass on to guests.
In a land where tourist traps abound, the authenticity of this experience really stood out. "This was the last excursion on our 10 day cruise-tour," one reviewer said, "and the most authentic by a mile."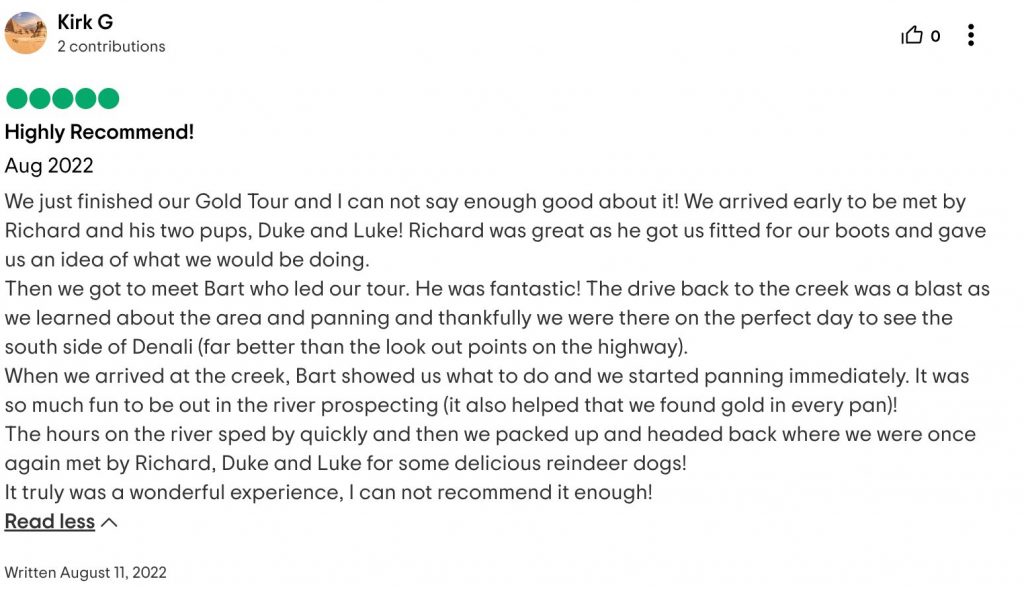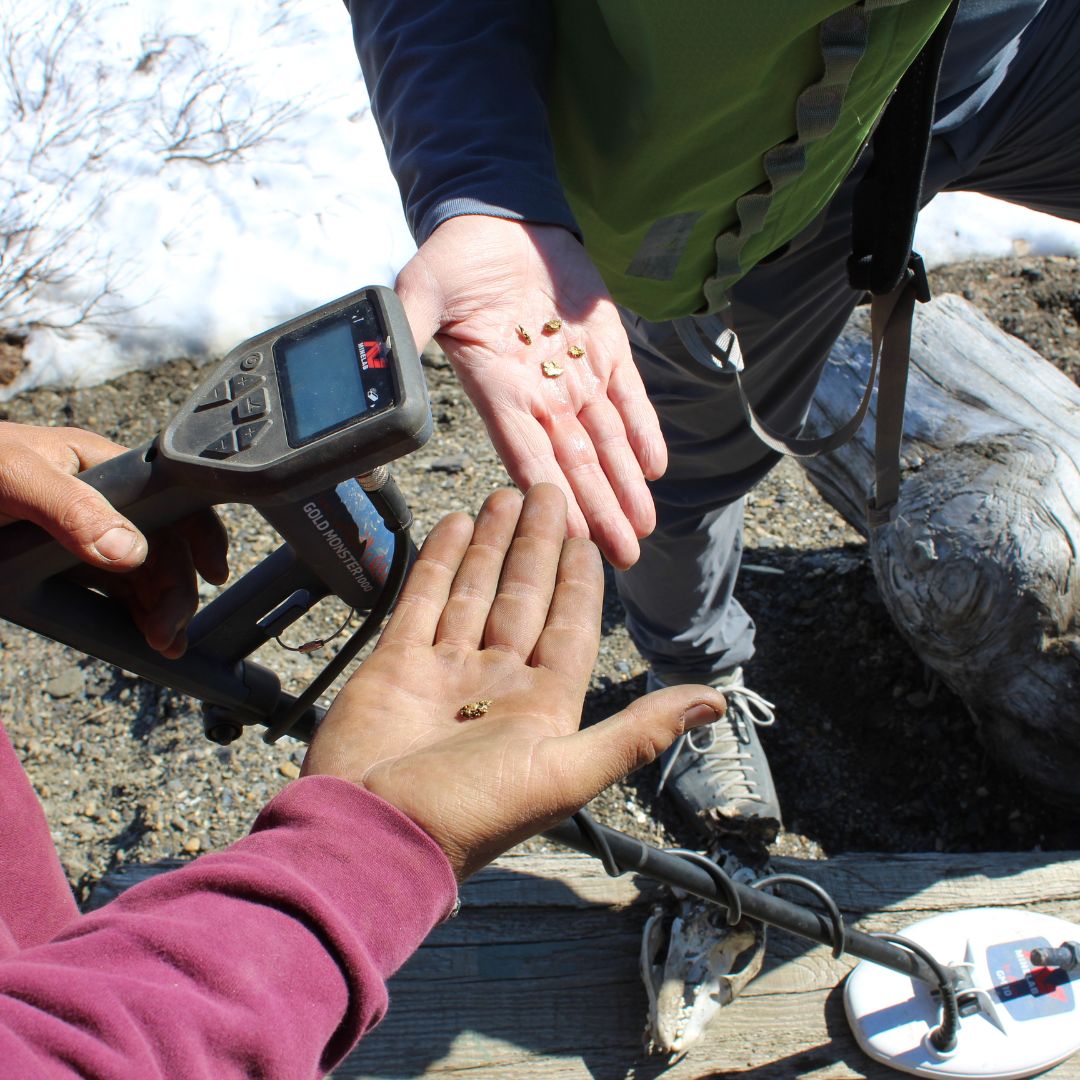 AKAU Gold & Resort in Nome
See AKAU Gold & Resort on Google Maps
Website: AKAUGold.com
Off road system (need to fly to Nome from Anchorage)
No cell phone service
Bathrooms with indoor plumbing available on-site
Lodging available on-site (need to book full week, not night-by-night)
Most likely to: find a huge gold nugget
Ok, we're a little partial to AKAU. After all it's where we host our Nome Gold Rush Getaway.
AKAU Gold & Resort was started by Augie Krutzsch and his mom Betty in 2012. Augie and Betty were commercially mining these historic Anvil Creek claims for decades until they converted it into a tourism camp.
First thing's first: the gold panning.
The website lists a gold panning day fee of $250. Most gold panning experiences are like $10-$20. What gives?
Well, the term "gold panning" is a little misleading. This rate includes a half-day tour for the guests on the 10 or 12 little cruise ships that come into Nome each summer. For reference, Juneau gets about 700 each year – and they're big.
Augie's staff will pick the guests up from the dock, give them a tour, let them shovel paydirt into a highbanker, run the cons through a gold cube, and then teach them pan the gold out and put it in a vial to take home. They'll also get lunch.
The reason I didn't put AKAU under "Cruise Ship Stops" is that AKAU isn't primarily a cruise-oriented experience like you get in Juneau or Ketchikan. Their main business is hosting guests for week-long backcountry gold mining expeditions.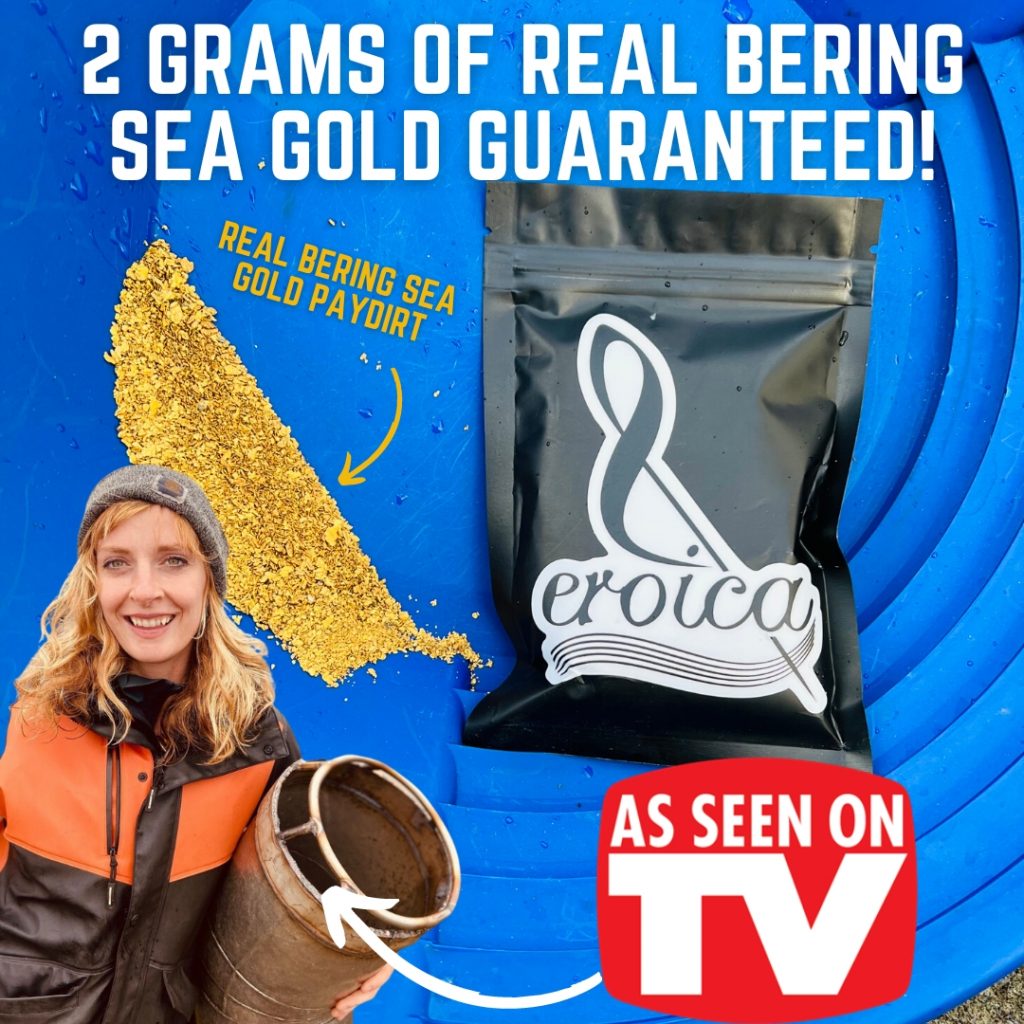 Learn to pan gold at home with our 2 Gram bag of Eroica Paydirt!
Buy real gold paydirt from the Bering Sea and prospect at home!
We know where it's from, because we sucked it up the nozzle ourselves.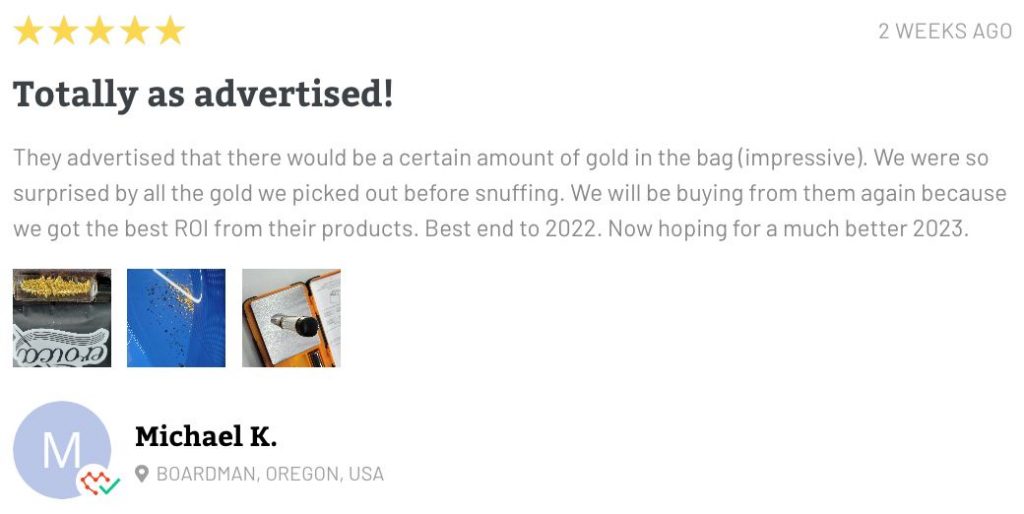 Guests can metal detect, dredge, run highbankers, and pan to their heart's desire. And they find some serious gold there. Augie tells us that someone at his camp has found a nugget that was at least 1 ozt each season since they opened in 2012.
They'll also feed guests three meals a day and take them on fishing charter adventures, 4-wheeler trips, and other historic tours.
If that sounds like fun, check out our Nome Gold Rush Getaway.
In addition to all that we give guests the chance to hang out with Emily Riedel from Discovery Channel's Bering Sea Gold for the week and we'll give you an exclusive behind the scenes look at the operation of our Bering Sea gold dredge the M/V Eroica.
According to customer reviews, visiting AKAU Gold & Resort is well worth the extra flight from Anchorage.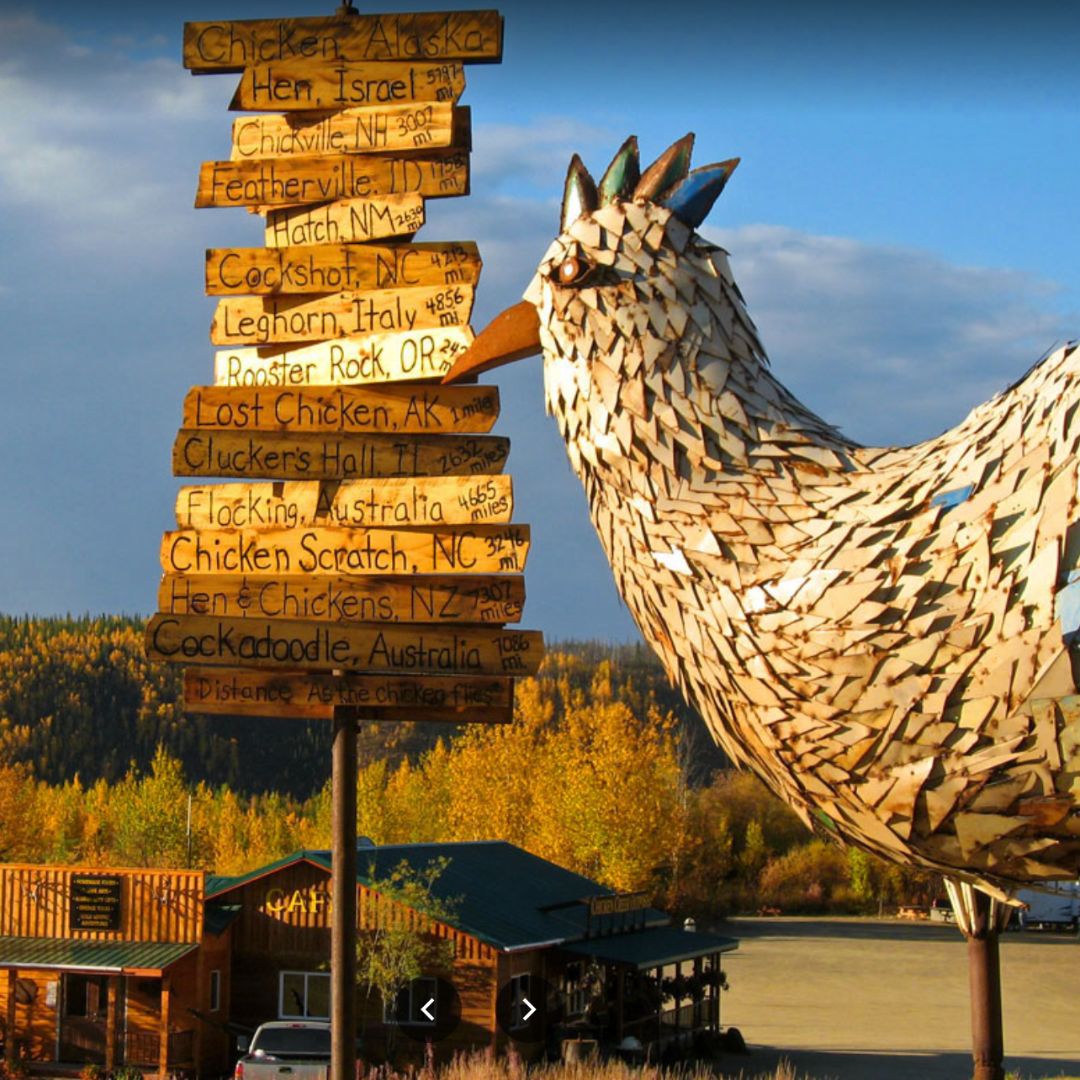 Chicken Gold Camp & Outpost
See Chicken Gold Camp & Outpost on Google Maps
Website: ChickenGold.com
On road system
No cell phone service
Outhouses on-site (reportedly very clean)
Lodging: Cabins, RV sites (with or without power), tent camping
Most likely to: experience the real Alaskan bush gold miner lifestyle
The Chicken Gold Camp & Outpost is many things. It's a restaurant, espresso bar and gift shop. It's a campground, RV Park and hotel. It's a history museum featuring the most complete bucket-line gold dredge in North America: the Pedro Gold Dredge. It's also a hub for recreational gold prospectors and the headquarters of an active commercial placer mine.
Of course in a quirky little town with a population of just 12 people, the residents are going to have to wear a lot of hats.
Chicken Gold Camp & Outpost offers guests the opportunity to pan paydirt from their commercial mining operation on-site, or mine recreationally at local claims.
The on-site gold panning is simple. The camp provides stand-up troughs with water and paydirt from its mining operation at Lost Chicken Mine; any gold you find is yours to keep. You can pan for 2 hours for just $10. Pans and lessons are provided at no extra charge.
The recreational gold mining offering is more interesting. Here's what the website says:
"In the past century, over 100,000 ounces of placer gold have been mined on Chicken Creek and its tributaries and there still remains a great deal of gold to be found. It is one of the richest placer gold deposits to be mined in Alaska. In 2007, we opened some of our claims to recreational placer gold mining so visitors could find gold in Alaska. These claims include virgin ground as well as some ground previously mined by crude methods between 50 and 125 years ago. The claims have historically produced good placer gold including some nuggets as large as 3 oz. Our customers have found many gold nuggets including some larger than one ounce!"
It's a 2-mile drive to the claim trail. The claim trail is a 1-mile access road that only be traversed by hiking or 4-wheeler. Guests are allowed to pan for gold, of course, but also run hand sluices, highbankers, suction dredges, and even mechanical classifying equipment like trommels!
There's a fee for running every type of equipment, and extra fees for equipment rentals, transportation to the claims, and even a helper to get your equipment set up. But you can save yourself some money by bringing your own equipment, your own transportation, and taking care of your own gear.
Chicken is a 5-hour drive from Fairbanks and a 7-hour drive from Anchorage. Many stop over here on the "Top of the World Highway" that goes between Fairbanks and Dawson City, Yukon Territory in Canada.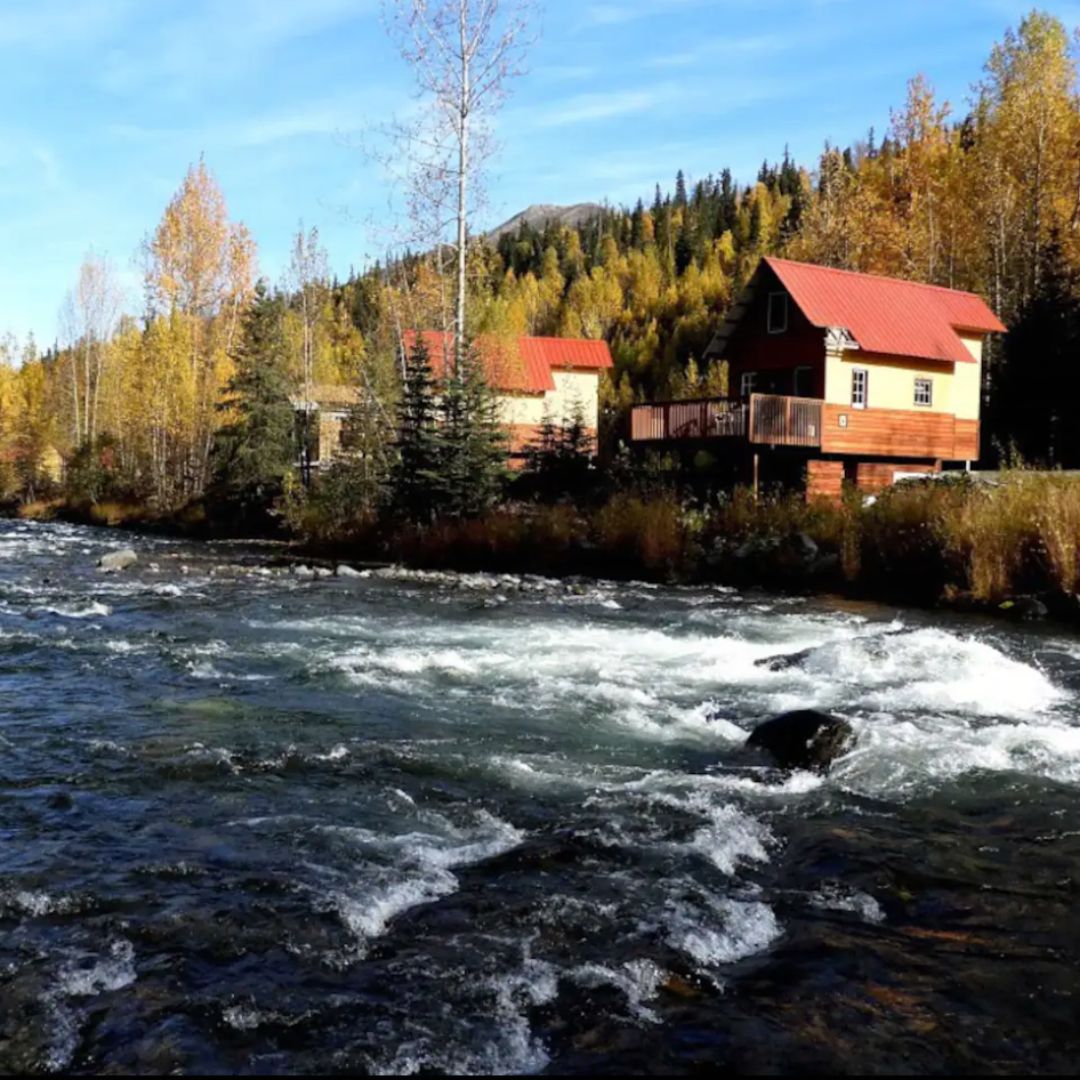 Alaska Forest & Trail "Gold School" in Hope
See Alaska Forest & Trail on Google Maps
Website: AlaskaForestandTrail.com
On road system
No cell phone service
Bathrooms with indoor plumbing
Lodging: Cabins with electric, heat & plumbing
Most likely to: convince the travel partner who doesn't have gold fever to stay
Alaska Forest & Trail is a small lodging and tour service in Hope, Alaska ran by proprietors Val and Sally Youngberg.
They offer cabin rentals and gold and history tours. We'll focus on the tour they call "gold school."
According to the website, Val and Sally "will introduce students to the ins and outs of gold mining and let you try your luck at prospecting your own paydirt from our Paystreke goldmine."
If you read the section about Panning in Resurrection Creek, the BLM guide says this: "You can access this area via the Resurrection Creek Road out of Hope. The mining area begins at the Resurrection Pass Trail footbridge, 4.5 miles from Hope, and continues upstream for 0.5 miles to a patented (private land) claim."
It appears that this place is the private land claim. And Val and Sally offer a special $49 class on how to operate a sluice and gold pan where guests can mine gold and keep what they find!
The funny thing about this place is it's kind of hard to find reviews of the gold school. It's hardly mentioned on Google Reviews and I can't find anything about Alaska Forest & Trails on Tripadvisor.
In fact, you have to dig through their Airbnb listings to get information about the gold tour. It would be easy to book this place and not even know about the opportunity to recreationally mine a rich private claim!
For those who are traveling with a partner who doesn't have gold fever, this is a great option. Towns like Chicken or Nome aren't likely to inspire excitement among those without gold fever. Those experiences are remote, somewhat rugged, and focus almost entirely on gold mining.
But Alaska Forest and Trail has built charming little cabins filled with comfortable furniture, local artwork and, most importantly, indoor plumbing. You can get "off-grid," out of cell service, and enjoy the amenities of home while enjoying the babbling river and local trails.
And Hope is only 4 miles away if you want a taste of civilization! It's an easy sell to a travel partner who wants to enjoy a little charming off-grid R&R while you hunt for the shiny stuff.
Guests who took advantage of "Gold School" loved it. Here's a typical review of their Riverside Cabin #2 on Airbnb.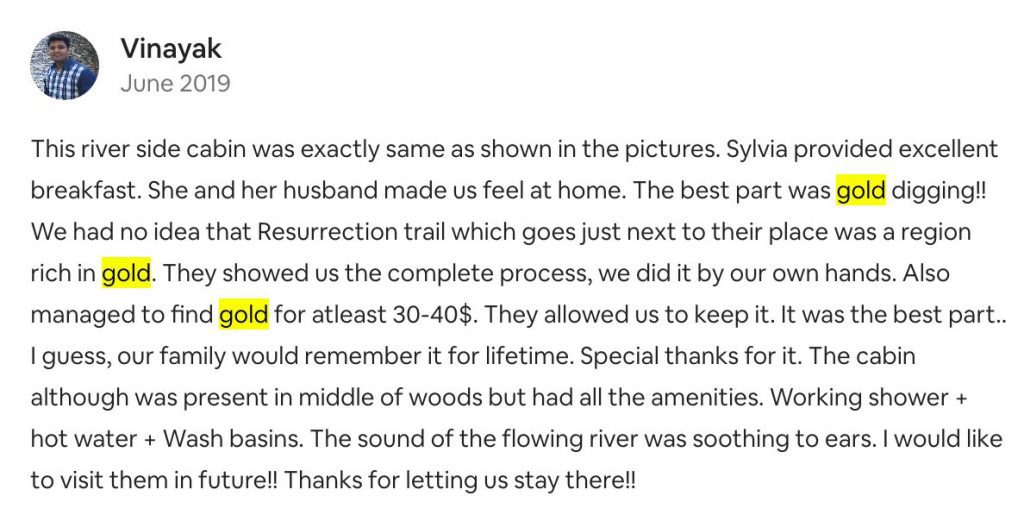 Gold Panning Junkies
Gold Daughters in Fairbanks
See Gold Daughters on Google Maps
Website: GoldDaughters.com
On road system
Cell phone service
Port-a-potty on-site
No lodging – it's a day trip
Most likely to: actually find as much gold as your heart desires
I didn't really know where to put the Gold Daughters in this list. It's not a "historic gold mine" per se. It's not a gold mining experience where you're prospecting for paydirt in an active claim. And it's not a cruise ship stop.
All I can say is it's just pure paydirt for panning junkies. So I put it in its own category. And unlike most of these places – you can get a LOT of gold and BIG NUGGETS if you're willing to pay for it.
Most gold panning attractions involve renting a pan and getting in a creek with a bunch of other tourists or getting a nondescript bucket of dirt and finding a few flakes.
Jordan and Ilaura Reeves opened up the Gold Daughters in 2014 to create a more thoughtful gold panning experience for customers and give them a chance to find some real gold and gold nuggets.
For $20 you get basic entry to their mining relic museum, as well as unlimited panning from the pile of unsearched paydirt outside.
But they also have a menu of paydirt upgrades where you can be sure you'll find some real gold nuggets.
Buckets of paydirt range anywhere from $20 to $10,000! That's right. You can buy a $10,000 bucket of paydirt at Gold Daughters and find some huge nuggets! Check out this video by our friend PioneerPauly panning out the biggest bucket available.
The 400+ reviews across Google and Tripadvisor are almost wall-to-wall 5 stars and commend Jordan and Ilaura and their staff on their patient gold panning lessons and attentiveness to guests.
Oh, and the love the Gold Daughters' mascot, Nugget the dog.

Historic Gold Mines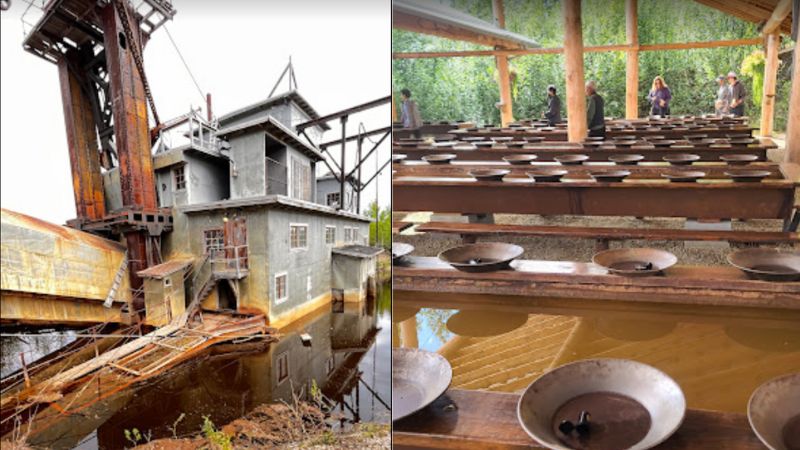 Gold Dredge 8 in Fairbanks
See Gold Dredge 8 on Google Maps
Website: GoldDredge8.com
On road system
Cell phone service
Restrooms on-site
No lodging – it's a day trip
Most likely to: feel like you're part of gold rush history
Most historic gold mines are little more than tourist traps with a few ramshackle buildings, a panning station, and a gift shop.
But not Gold Dredge 8. This place is like a freakin' theme park.
Well, maybe that's going a bit far. But it's definitely the most polished tourism experience on this list. Dredge 8 partners with the big cruise lines to give thousands of people a summer a unique golden experience.
You start your $55, 2-hour tour by getting on a replica of the Tanana Valley Railroad. A fellow named Earl with a guitar and a microphones teaches you about the history and workings of Dredge 8 as you roll down the tracks. Actors bring history to life with demonstrations of the workings of a bucket-line dredge and other interesting tidbits from that era.
Learn to pan gold at home!
Buy real gold paydirt and gold-by-the-gram straight from the Bering Sea.
We know where it's from, because we sucked it up the nozzle ourselves.
When you get off the train you're given a little sack of paydirt and directed to gold panning troughs where you can pan the gold out yourself. Afterwards you can take as much time as you want to explore the mining museum (which actually includes a number of fossils uncovered during mining operations in Fairbanks) and the gift shop.
Oh, and as a cool bonus you can see a cut-out section of the Alyeska Pipeline that brings oil down from the arctic to the Port of Valdez for export. It's a hugely important piece of infrastructure for the state of Alaska and has a very cool story.
Look, this is far from an "authentic gold mining experience." But many guests appreciate the polished, comfortable tour. It's perfect for parties with kids with short attention spans (but I repeat myself) or folks who are elderly or disabled for whom a backcountry experience is out of the question.

Indian Valley Mine in Anchorage
See Indian Valley Mine on Google Maps
Website: IndianValleyMine.com
On road system
Cell phone service
Outhouse restroom on-site
No lodging – it's a day trip
Most likely to: pan gold with a duck swimming around in your trough
I was expecting to read some mediocre reviews about this place. It has all the markers of a tourist trap Alaskan panning experience: it's close to Anchorage, it's a "historic mine site" (where the gold panning is often an afterthought), and it mentions "gifts" in the title on Google Maps.
But I read dozens of reviews and it turns out…people love it.
Like most of these small tourist attractions, the hosts make or break the experience. Visitors found owners Roger and Arlene Cowles to be thoughtful, caring owners with a host of stories about the history and mining operations at Indian Valley.
Entrance is only $1 a person to the grounds and you can buy buckets of paydirt to pan for $20, $50 or $100. They also have group rates that are much cheaper if you have a lot of people in your party.
You can pan gold while looking out over a stunning part of Cook Inlet, explore the grounds, and buy unique gifts at the shop.
Oh, and if you have a kid that just can't sit there and pay attention to gold panning, the Cowles have loads of ducks, geese, chickens, and turkeys wandering around to keep them occupied. It's a fun touch everyone can enjoy.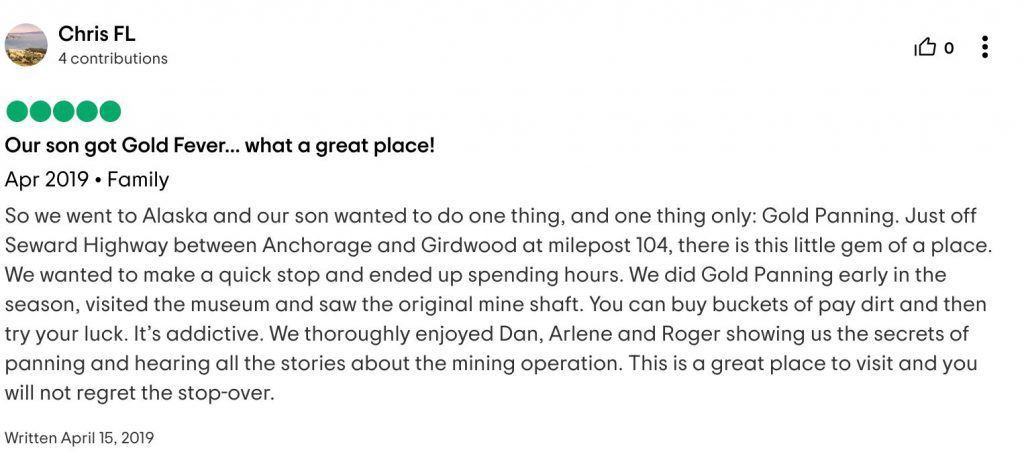 Crow Creek Gold Mine in Girdwood
See Crow Creek Mine on Google Maps
Website: CrowCreekGoldMine.com
On road system
Cell phone service
Restrooms on-site
No lodging – it's a day trip
Most likely to: visit a charming small town close to Anchorage
Crow Creek Mine in Girdwood is a historical hydraulic gold mine that was established in 1896. It was producing 700 ounces per month at its peak and ultimately ceased commercial operations sometime in the mid-twentieth century.
Girdwood isn't a particularly rich goldfield by Alaskan standards, and 700 ounces a month isn't much to write home about, but the creek still produces some gold today.
It costs $13 for general admission to tour the gardens and historical buildings. For another $12 ($25 in total) they'll rent you a gold pan and let you try your hand at finding gold in Crow Creek.
Emily and I love Girdwood – it's our favorite getaway in Alaska. We especially love visiting Alyeska Ski Resort in the winter. Make sure you explore the town and check out the cool houses!
According to reviewers on Google the best part of stopping here is the cleanliness, the attentive staff, and getting a chance to pan in a real gold-bearing creek without much hassle. The drive from Anchorage alone is worth it – it will be one of the most breathtaking views of your life for almost 45 straight minutes.
The downside? It seems like Crow Creek has been panned pretty hard over the years, and some reviewers thought the experience was a little lackluster. This review is pretty typical:
Cruise ship stops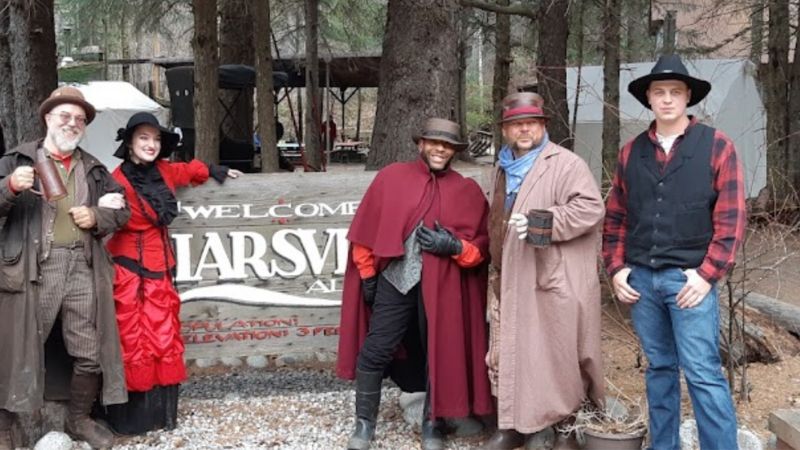 Liarsville Gold Rush Trail Camp & Salmon Bake in Skagway
See Liarsville Gold Rush Trail Camp on Google Maps
Website: Tour info on AlaskaTravelAdventures.com
Off road system
Cell phone service likely, given proximity to Skagway
Bathrooms with plumbing on-site (although reviews complain of long lines)
No lodging – it's a day trip from your cruise ship
Most likely to: enjoy dinner and a show
The gold panning experience is secondary at this historical gold rush experience at Skagway.
This 2-hour tour seems to be designed specifically for the cruise ships stopping at Skagway. They'll pick you up at the docks and take you to the Liarsville Camp where you'll start with an all-you-can-eat salmon bake.
Afterwards you can explore the camp exhibits manned by actors playing various roles from the gold rush era, pan for a few flakes of gold at the gold panning station, or see the waterfall.
Expect to pay $69 for adults and $52 for children.
Among reviewers, the dividing line between enjoying and not enjoying the experience seems to be if you like these types of historical reenactments.
The reviews almost universally commend the young actors in the dinner skit for the show they put on. They also recommend the salmon – which is not surprising because the difference between fresh Alaska salmon and what you get in a store in the Lower 48 is almost life changing. It's almost impossible to mess it up.
That said, there's a lot of talk of a long, corny poem and few people want to crowd around a gold panning trough after a few beers and a second helping of scalloped potatoes.
I'd probably avoid this one if you're looking for an authentic gold panning experience, but you should go if you enjoy experiences like Disney World and Medieval Times.

Gold Creek Salmon Bake in Juneau
See Gold Creek Salmon Bake on Google Maps
Website: Tour Info on AlaskaTravelAdventures.com
Off road system
Cell phone service likely, given proximity to Juneau
Bathrooms with plumbing on-site
No lodging – it's a day trip from your cruise ship
Most likely to: stay warm and dry while looking for gold
This attraction must do some real volume each summer because it has over 1,400 reviews between Google Maps and Tripadvisor.
The $62 tour will pick guests up at the cruise ship dock in Juneau and take them to an outdoor restaurant where they will listen to live music, eat fresh wild-caught Alaskan salmon cooked over an alderwood fire, and roast marshmallows.
Guests love that the entire outdoor restaurant is covered and heated, making even the (frequent) rainy days in Juneau enjoyable.
There is a gold panning station, but it seems to be an afterthought to the restaurant.
Reviewers seem to enjoy the experience, but mostly discuss the food and atmosphere over the gold panning.
As an adopted Alaskan, my favorite part is reading folks complain about bones in the fish. If you've never had wild Alaskan salmon before, prepare yourself for bones. They're unavoidable, but it's worth it!

Historic Gold Mining & Panning Adventure in Juneau
See pickup spot for Historic Gold Mining & Panning Adventure on Google Maps
Website: Tour Info on AlaskaTravelAdventures.com
Off road system
Cell phone service likely, given proximity to Juneau
No bathrooms on-site, but available nearby in Juneau
No lodging – it's a day trip from your cruise ship
Most likely to: find gold like a real prospector on a cruise trip
For those who want a more authentic gold panning experience than the Gold Creek Salmon Bake in Juneau, you can join the Historic Gold Mining & Panning Adventure.
There's no independent website or Google Maps location for this trip. It seems to be an experienced offered directly to cruise ship visitors through Alaska Travel Adventures.
While your ship is docked in Juneau, this tour will take you to pan gold on a remote section of the appropriately-named Gold Creek. Your guide (who's dressed as an old prospector) will teach you to pan and tell you the history of the local Gold Rush.
The cool thing about this trip is you will be getting into the creek and finding gold for yourself, which is a rare opportunity on most of these cruise ship stops.
Reviewers say they enjoyed learning the history of the area and that the guides were actually able to put them on some decent gold in the creek – which is a special experience in itself!
Pan like a real prospector in the Alaska backcountry
Alaska has dozens of areas where you can get out by yourself and prospect for gold with pans, shovels and sluice boxes. Many places even allow you to operate motorized equipment like highbankers and gold dredges with a simple permit, or nothing at all!
This is not an extensive list, but it contains the places we think you're most likely to find gold, and are fairly easy to access. While these are technically "backcountry," none of these places require too much hiking from your car.
Resurrection Creek in Hope
Navigate to the Parking Area for Resurrection Creek Gold Panning Sites on Google Maps
If you didn't know this place existed, you would never have guessed it was here. There isn't even a marked destination on Google Maps, let alone reviews vouching for the gold.
Maybe that means it's rich ground? Gold miners don't like to share where the good gold is found.
But dig deep into the BLM website and you'll find a guide to recreational gold panning sites on the Kenai Peninsula, which was updated as recently as 2018.
It says this about Resurrection Creek:
"About 1888, the second discovery of gold on the Kenai Peninsula happened on Resurrection Creek. Resurrection Creek has produced an estimated 30,000 to 40,000 troy ounces of gold since.
A half-mile stretch of Resurrection Creek lies within a withdrawal and is available for recreational gold panning. This area is a favorite site for recreational mining. Suction dredges (4-inch or smaller) are allowed from May 15 to July 15 with a free ADF&G permit and a ADEC permit ($25 annual fee).
You can access this area via the Resurrection Creek Road out of Hope. The mining area begins at the Resurrection Pass Trail footbridge, 4.5 miles from Hope, and continues upstream for 0.5 miles to a patented (private land) claim (Map 4). The claim boundary is marked with a gate.
Try for fine, flat gold near the campsite 0.25 mile above the footbridge and along the creek bank near the recreational mining information sign. Bedrock is exposed on the east canyon wall just above the campsite and just below the private lands. Both spots are good bets for gold. Rounded boulders piled along the creek are tailings from old hydraulic operations. Much of the road has been built on these tailings."
If you want a guided experience on Resurrection Creek, check out Alaska Forest & Trail's Gold School!
Beaches of Nome
See Nome's Middle Beach on Google Maps
I don't have to read Google reviews to tell you there's gold to pan on the beaches of Nome. I've seen it with my own eyes, and in my own pan.
Nome is famous for its golden sands – or its "placer beach deposits" if you want to get technical.
In fact, Nome got its reputation for being a "poor man's paradise" during the gold rush because any able-bodied man or woman could mine gold on its beaches without a claim!
As the wind and the waves erode the bluffs above the beaches just east and west of town, gold spills into beach sands. Gold is often (but not always, and not exclusively) found in thin layers of red sand along the coast east and west of Nome.
Beach mining with a highbanker is a popular pasttime in Nome. The trick is to find a good water source that can supply a steady flow to the highbanker.
Because of the water demand, most miners set their highbanker up on west beach below this pond, and go find gold-bearing sand and bring it back on a 4×4 vehicle. Some build something called a "stinger" which is a hose that rolls out into the ocean on a big-wheeled metal dolly. The pros are they can run their highliner anywhere. The cons are it's prone to problems, and can be downright useless when the waves are big.
You can learn more about beach mining in Nome in our article here.
The great thing for folks who just want to pan some gold is that you can take a pan just about anywhere on the beach and at least find some fly poop.
The downside is the legality of beach mining is…questionable. The beach miners have a somewhat uneasy relationship with the local mineral owners (mainly the Sitnasuak and Bering Strait Native Corporations) and will sometimes run afoul of them, depending on local sentiment towards the miners.
Also, if you take material too far down east beach you might be on property owned by people (not corporations) and get a stern word from someone driving by in their truck.
But don't let that scare you. No one is going to take you to jail for panning some beach sand! If you pan gold close to town in either direction it's likely no one is going to bug you, especially because you aren't running any kind of mechanical equipment like a highbanker.
If you're intimidated then just drive around until you see some crusty old guy mining the beach and pan some sand nearby. Those guys are always around and they usually know where to gather paydirt without much trouble!
PS – the beach gold is especially good after storms. You'll see a mini gold rush on the beach after big storms, especially where the tundra bluff has been destroyed and released fresh new paydirt!
In fact, the gold pan plays a key role in this story...

On a beautiful early summer day, high up in the mountains somewhere out West, two prospectors were hunting for gold. They were very alike, these two prospectors. Both caught gold fever after finding a few flakes in a local creek. Both had studied the art and science of finding gold, both had invested in the latest equipment and both – as new prospectors are – were filled with dreams of hitting the motherlode.

Recently, those two prospectors met up for a beer.

They were still very much alike. Both were happily married. Both had interesting careers. And both, it turned out, still loved gold.

But there was a difference. One of the prospectors had given up hunting for gold altogether. His gold pan gathered dust in the corner of the garage and he decided instead to buy gold coins online and stash them in his sock drawer.

He hunts deals these days, comparing prices on bullion sites. The only skill he has mastered is saving a few bucks on the new American Eagle 1 oz coin.

The other has a rapidly-filling jar of placer gold at home and is about to buy his first claim. He recovers his own gold from the dirt.

His accomplishments allow him access to the exclusive club of successful prospectors who swap tips and tricks of the trade. And his gold, when he passes it down to his children, is accompanied by rich stories of adventure and discovery, and important life lessons.

Now the (literally) million-dollar question: What made the difference?



Click here to read the story "A Tale of Two Prospectors"
Bertha Creek in Hope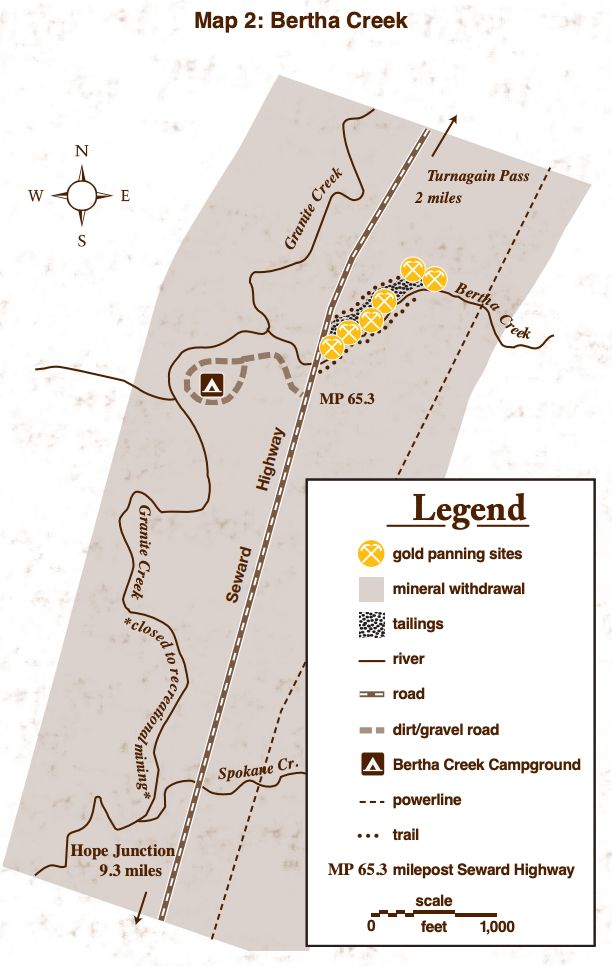 See Bertha Creek Campground on Google Maps
Bertha Creek, a 60-minute drive south of Anchorage, is another BLM gold panning site we found in the agency's guide to recreational gold panning sites on the Kenai Peninsula.
The most popular stop on this stretch of the Seward Highway is Turnagain Pass Rest Area – a beautiful spot for RV'ers traveling down the Kenai Peninsula to stop and stretch their legs. But few know that just 2.5 miles down the road from this stop is Bertha Creek Campground, where you can pull off the road and prospect for gold.
The BLM estimates this creek yielded 600 ounces of gold, and that there is more to be found for the recreational prospector.
The guide says this:
"Slate bedrock is exposed for 850 feet along the creek, beginning 150 feet above the Seward Highway's Bertha Creek bridge. A rough trail leads up the east side of the creek. The tan colored clay layer on bedrock is a good bet for gold that ranges from flaky to nuggety. Single pans have produced gold pieces up to 1/4 inch long. The rust-colored quartz float in the stream bed occasionally contains pyrite cubes and may be the placer gold source.
Another trail leaves the highway 250 feet north of the bridge, leading up the northwest side of the creek. At mile 0.2, it passes a bluff overlooking the site where Bertha Creek exits from a narrow steepwalled canyon. You can get good colors from stream gravel and fractured bedrock in this area."
Bertha Creek is pretty quiet, even during the height of the summer tourism season. This stretch of the Seward Highway isn't exactly the Juneau Cruise Ship Dock, which sees 1.15 million visitors each summer.
But if you really want to get away from people, you can also prospect some of the creeks nearby, according to the guide.
"You can also get gold from nearby Spokane Creek (Map 2) and Lyon, and Tincan creeks north of Bertha Creek. The withdrawal includes the lower creek portions that are open to recreational panning. An informal pull-off where the Seward Highway crosses Spokane Creek provides parking for 1-2 vehicles. Access Lyon and Tincan creeks from the Turnagain Pass rest area."
Several of the reviewers on Google Maps mention gold. Several also mention sightings of bears in the area. Sometimes at the same time.
Sixmile Creek in Hope
See Sixmile Creek Panning Area in Google Maps
North of the Hope Junction, on the Hope Highway, there's a BLM recreational gold panning site on Sixmile Creek.
The map shows a convenient place to pull off Hope Highway and park 2.4 miles north of the junction, with a steep trail that goes down to Sixmile Creek.
But the Sixmile Creek mineral withdrawal set aside for recreational gold prospecting is actually much bigger than that little stretch. It runs from 0.7 to 5 miles north of the Hope Junction, a 4.3 mile length. And it spans from the east bank of the Sixmile Creek to 200 feet west of the Hope Highway centerline. So you can pan gold in the Sixmile Creek tributaries that pepper that stretch of highway.
Is the gold any good? It's hard to tell without going and figuring that out yourself, because gold miners are a notoriously secret bunch.
But the BLM guide says this:
"In recent years, there were several small suction dredge operations."
In our experience, where there are several dredges, there is usually gold.
It goes on, "Sixmile Creek flows through a broad glacial valley with numerous gravel bars and some bedrock exposures. Park at mile 2.4 on the Hope Road, at the pull-out on the east side and follow a steep trail down the road embankment to Sixmile Creek (Map 3).
Gravel bars along this stretch of creek contain flat flour gold and occasional small flakes. Pans have produced 15–20 fine colors of flat, wellworn gold. The south end of the gravel bar nearest the road is best, especially on the downstream side of larger rocks. Panning gravel on bedrock downstream from the bar can also produce gold. A rough trail from the north end of the parking lot will reach these sites that are best accessed during low water. Rusty-colored quartz float along the creek sometimes contains pyrite (fool's gold).
Suction dredges (4-inch or smaller) are only allowed from May 15 to July 15 with a free ADF&G permit and a ADEC permit ($25 annual fee).
You can find good panning at mile 4.3 on the Hope Road (not shown on map). Pullout on a short side road into the trees and follow the trail to Sixmile Creek. You can find gold on point bars to the east and old channels next to the creek."
Crescent Creek in Cooper Landing
See Crescent Creek Campground on Google Maps
Crescent Creek is available for recreational panning from the bridge on Quartz Creek Road to its junction with Quartz Creek.
While it's adjacent to a forest service campground, and there are active mining claims on the south side of the creek, the creek itself is on state land and is available for folks who want to pan for gold.
The BLM Guide to Recreational Gold Panning on the Kenai Peninsula says this about the gold in Crescent Creek:
"Fine gold is disseminated through the clay-rich, boulders and gravels along Crescent Creek, just south of the campground. The gravels form an alluvial fan, where the creek exits nearby mountainous terrain. That creek portion, stretching for 600 feet below the bridge, produces flat to ragged, slightly crystalline, flakes up to 2 mm in size. Clay-rich gravels are best for holding gold.
The south side of the creek has mining claims. Because of king salmon spawning, Crescent Creek is only open to suction dredging from May 15 to July 15 with a free ADF&G permit. Old hydraulic workings on claims can be seen just south of the Crescent Creek trailhead. Respect active mining claims located on the upper portions of the creek, above the bridge."
Get 10% off your first purchase of Bering Sea Gold if you join our email list!
Gold Mint Trail along Little Susitna River in Palmer
See Gold Mint Trailhead on Google Maps
This one is a little hard to figure out, but thankfully Steve over at DetectorProspector.com did his homework and helped us find this little gem of a prospecting area.
Apparently there's a state recreational area called the Hatcher Pass Public Use Area. While it's a popular spot among locals, few know that recreational gold mining is allowed – including dredging if you have the right permits.
Steve shared the only map I've seen of the area.
A clear access point is the Gold Mint Trail, which is a stunning hike that allows access to the Little Susitna River at multiple points.
Is there gold there? Hard to say. In 151 reviews of the Gold Mint Trailhead on Google Maps, not a single one mentions gold panning or prospecting, which is rare even for the little-used backcountry trails on this list.
But Independence Mine State Historical Park, a huge old gold mine (where you might also be able to pan), is just a few miles away. And there are a lot of gold-themed roads and trails in the area, including this one. I'd wager there are some shiny pans to be had.
Worst case scenario you get a hike and some stunning views.
Stops on the Dalton Highway North of Fairbanks
The Dalton Highway is the formidable 414-mile stretch of road in Alaska featured on the show Ice Road Truckers. It begins at the Elliott Highway, north of Fairbanks, and ends at Deadhorse near the Arctic Ocean and the Prudhoe Bay Oil Fields.
It's hard to describe just how rugged, remote, and lonely this road is to folks from the Lower 48. First, there are only 3 towns in 414 miles. The highway features the longest stretch of unserviced road on the North American continent when you leave Coldfoot heading north. It's 240 miles of nothing.
The conditions can be steep, slick, rocky, muddy, and treacherous. Most rental car companies don't even allow their vehicles make the trip up the Dalton. You'll have to find a special 4×4 vehicle outfitter that rents rigs specifically for this trip.
There are work trucks rumbling up and down the highway, and a trickle of adventurous tourists in the summer months.
Given all this nothingness, it's a little odd that the BLM chose this stretch of road to make detailed guide about where one can stop and find gold. There are almost 20 places on this list, with a rating of 1-3 pans about how likely you are to find gold!
Why not do this anywhere else in the country, where there are tons more people traveling who might want to stop and prospect? I don't know. But we'll never turn down a good gold map.
Don't count on cell service, bathrooms, services, or frequent opportunities to get help if you're in a bind. But you can count on having an adventure of a lifetime on America's northernmost highway.