If you missed Part 1 of the Nome Gold Rush History (in Pictures) you can read it here.
The Three Lucky Swedes
Most people who are familiar with Nome, Alaska are also familiar with the story of "The Three Lucky Swedes". On Sept. 20, 1898, Norwegian-American Jafet Lindeberg, and two naturalized American citizens of Swedish birth, Erik Lindblom and John Brynteson discovered rich deposits of alluvial gold on Anvil Creek, a tributary of the Snake River near Cape Nome.
At that time, people could assert their intention to become US citizens by getting their first set of citizenship papers by an authorized US Government Agent to be followed by a second set after their background information had cleared from their country of origin. Miners were eligible to stake a claim if they were already American citizens or could show intent to become citizens. Only the Federal Government had the power to question a claim owner's citizenship, not other miners, according to federal law.
Brytenson, of Swedish origin, was a fully naturalized citizen, having taken his second papers out in Michigan, where he had been employed as an iron miner in 1896. Lindblom, another Swede, had taken out his second papers in 1894. Lindeberg, a Norwegian, after hearing about the Yukon gold rush, took a job minding and bringing reindeer to America in order to get free passage to the Klondike. Dr. Sheldon Jackson, who headed up the reindeer project, had taken Lindeberg to U.S. Commissioner Shepard in St. Michael to apply for his first naturalization papers. Shepard asserted that he could do this, but he was not really authorized to issue first papers. This helped fuel the fire that ignited what was to come.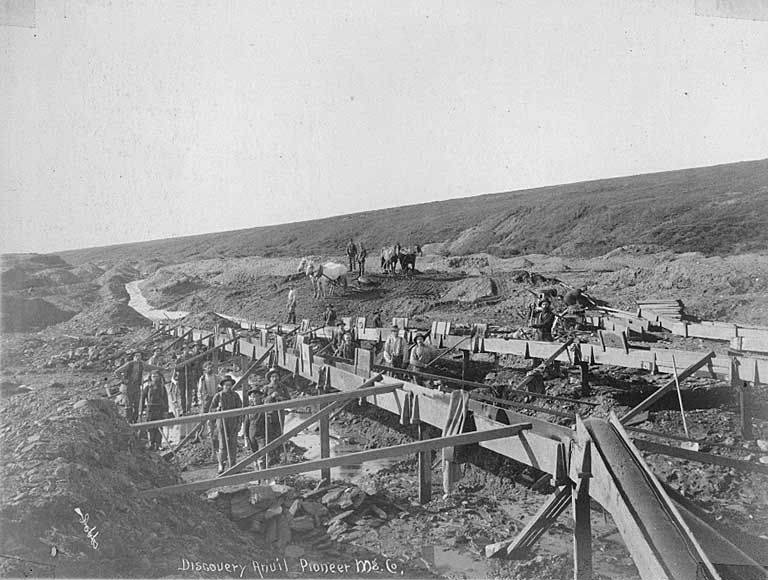 The Three Lucky Swedes started the Pioneer Mining Company with Lindeberg as the president. They staked claims along the Anvil Creek and below it which turned out to be the richest claims in Nome. The Wild Goose Trading and Mining Company, owned by Charles D. Lane had the other claims around Anvil Creek which proved to be equally as lucrative.
Tensions Rise
By winter of 1899, new arrivals to Nome found that most of the immediate region had been staked which included the highest gold producing ground around the creeks and rivers. Ugly disputes over claims burst into a threat of violence by mid-summer. A US Army detachment from St. Micheal's had been sent to Nome to help keep the peace as crime and tensions grew.
An attempt was made at a miners' meeting on July 10th, 1899, at a local saloon to have all the claims staked up to that time invalidated to permit a general re-staking of the creeks based on the false claims that the original claim holders were not eligible to stake claims because they were not American citizens at the time.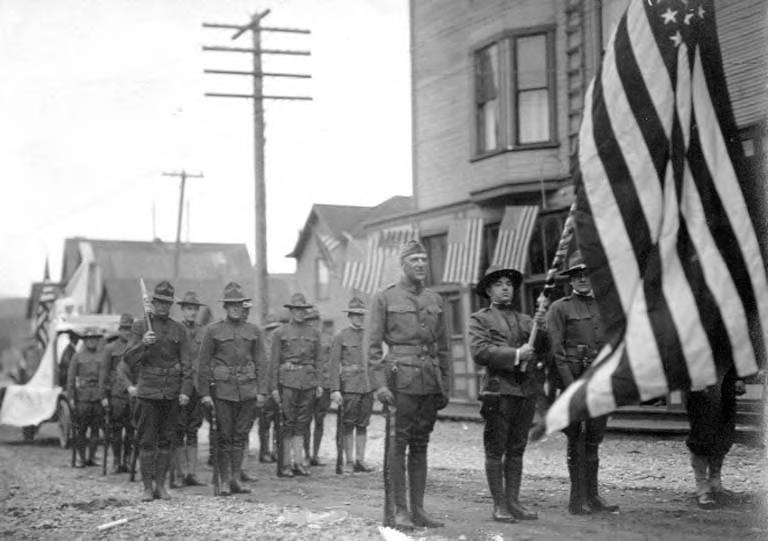 Second Lieutenant Oliver L. Spaulding, Jr., commanding officer of the army troops detailed to the area, along with three of his men, averted mob action by clearing the saloon at bayonet point and ordering that original claim owners would keep their claims and going forward only they could call District Mine Meetings.
That didn't stop the miners in their pursuit of taking over control of the staked claims. Among the new arrivals in Nome that summer were attorney's, Hubbard, Beaman and Hume, who set up an office in Nome and quickly got to work helping miners file "jumper" titles on the already claimed grounds. The jumper titles were only good if the original staked claims proved to be invalid due to the original claim owners not having legal rights to do so. Within a matter of months, the attorneys had bought over 60% of the jumper titles from broke miners, including those covering claims owned by the Pioneer Mining Company.
Shady Politics
In early 1900 attorneys O.P. Hume and W.P. Hubbard left Nome and met with Alexander McKenzie in New York. McKenzie was the U.S. Marshall for North Dakota, sheriff of Burleigh County, and a Republican operative powerful enough to have his state's capital changed from Yankton to Bismark, where he had property waiting to be sold. In the new state of North Dakota, he personally selected many Republican candidates for the state legislature, the U.S. Senate, and the U.S. House of Representatives. He was the Republican National Committeeman for North Dakota for 21 years. He was a political powerhouse with a lot of close connections in Washington, DC.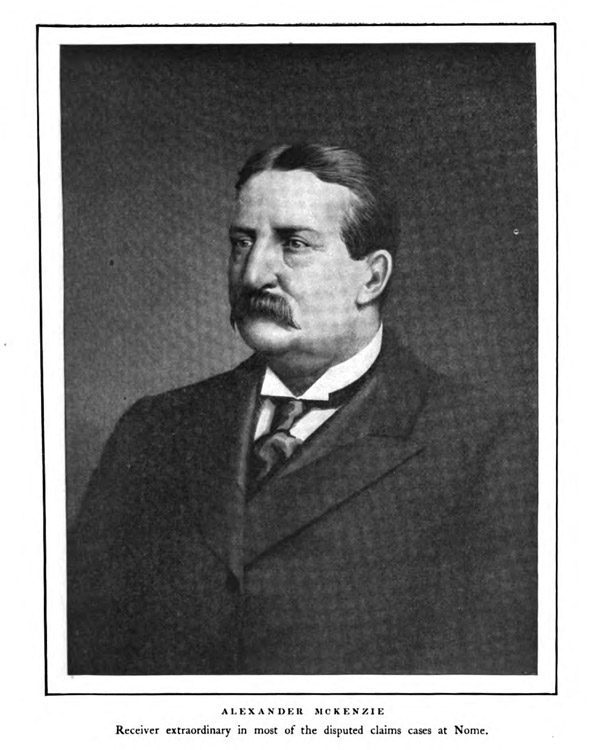 News of the gold strike in Nome had already reached McKenzie by the time he met with Hume and Hubbard and he had been looking for a way to get in on the action. McKenzie wanted to gain the rich claims in the Nome area by using the erroneous argument that "The Three Lucky Swedes" and other claim locators were really aliens, not citizens. Therefore, the jumpers were the rightful claim owners. After that meeting McKenzie formed The Alaska Gold Mining Company where he owned 51% of the stock. Hume, Hubbard and others in McKenzie's circle, including a couple US Senators, already owned around 500 claim titles, most of them jumper titles, that were purchased by McKenzie's new company in exchange for stock.
McKenzie's first plan was to have his close friends, and now business partners, Senator Henry Hansbrough of North Dakota and Senator Thomas Carter of Montana, add an amendment to Senate Bill 3919, a bill providing a civil code for Alaska. The amendment would remove two sections from the bill, that would invalidate the Anvil Creek and other claims stating that the original locators were aliens and not entitled to locate claims, much less transfer them.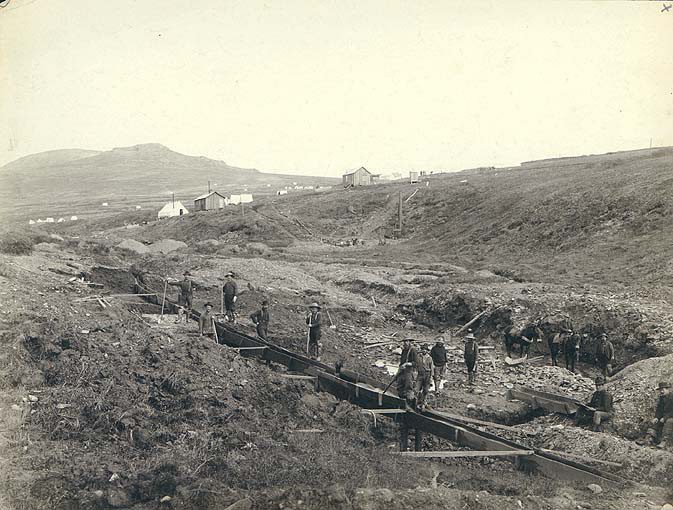 Not even McKenzie's political pull could get the amendment passed as there was fierce opposition on the other side that had their own powerful allies in Washington. Charles Lane of the Wild Goose claims had his own friends in Washington DC and at the end of the day the so-called McKenzie Amendment was defeated and left out of the final bill that became law on June 6th, 1900 establishing a civil government for Alaska. Had it passed with the amendment, McKenzie would have instantly made millions of dollars from his jumper titles.
Judge Arthur H. Noyes, Bought and Paid For
Even though the amendment didn't pass, McKenzie had another plan. The new law established a federal district court for the district of Alaska and authorized the appointment of three judges to reside in various divisions of that territory. Once again, using his political friends, he was successful in getting his own man, Arthur H. Noyes, appointed as Federal Judge to the 2nd District of Alaska, which covered Nome and all its gold rich mines.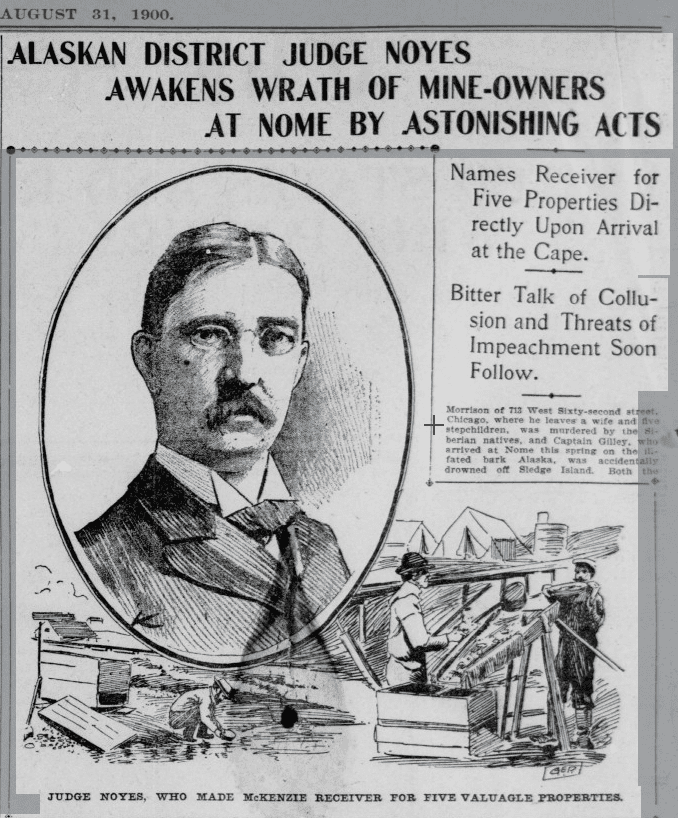 Once appointed, Noyes was accompanied by McKenzie to Nome, where they wasted no time in putting McKenzie's plan into action. By law, Judge Noyes was required to go to St. Michael to register and could not conduct any legal proceedings for thirty days. He never went to St. Micheal's to register and he was conducting legal proceedings within 2 days of landing in Nome on July 19th, 1900. His first order was to appoint McKenzie as the receiver for any disputed claims until the disputes were settled.
Receivers were supposed to be impartial, protect the value of the property and protect the interests of the defendants and the plaintiffs. As the main stockholder in the Alaskan Gold Mining Company, he was secretly one of the plaintiffs himself with his jumper titles. It was clear to everyone that he had no business being named the receiver in any of the disputed claims.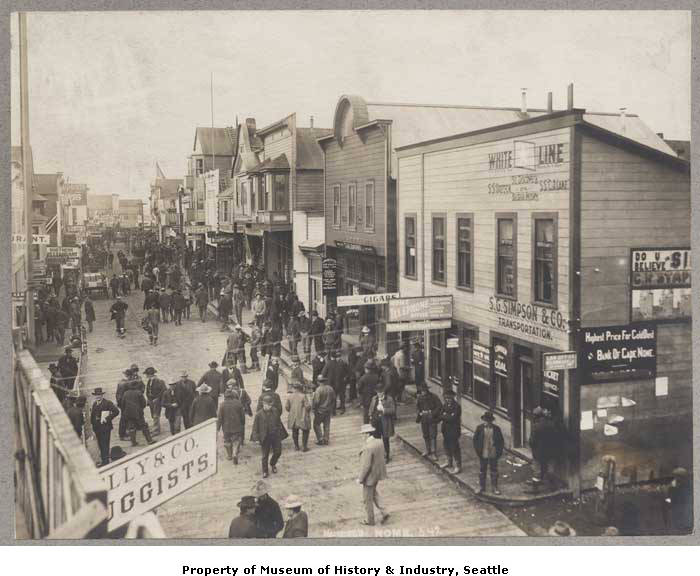 McKenzie's first stop was the office of Hubbard, Beaman and Hume where he had them start filing complaints about the legality of the richest claims on Anvil Creek which were controlled by the Pioneer Mining Company and the Wild Goose Mining and Trading Company. Noyes would grant the injunction, evicting the rightful owners, placing the claims into receivership to be controlled by McKenzie who would mine them and keep the gold. Noyes signed the orders before the claim owners knew what was happening, illegally, not notifying them before any ruling was made. With the law on his side, McKenzie would have the rightful claim owners forcibly removed if they wouldn't leave on their own. Due to the injunction, they were forbidden from stepping a foot on their own claims.
Judge Noyes would drag out the litigation while McKenzie would clean out the mines. Everything they were doing was highly illegal but there wasn't a higher judicial authority for the owners to appeal to in Alaska at the time. Every motion the defendants attorneys would file, Judge Noyes denied. Left with no recourse in Nome, the attorneys for the Pioneer Mining Company and Wild Goose Mining and Trading took their petitions directly to the 9th Circuit Court of Appeals in San Francisco via steamboat.
Taking Back the Mines
In late August, 1900 Judge William Morrow read their petitions and it was immediately apparent to him that both Noyes and McKenzie had "grossly abused their power". He immediately ordered the injunctions to be lifted and the original claim owners be allowed back on their claims. He also dismissed McKenzie as receiver and ordered him to return all property that he had seized along with any gold he had mined.
When word of the Circuit Courts orders reached Nome on September 14, 1900, McKenzie refused to follow them, proclaiming, "No one can hurt me, I'm too powerful at Headquarters." Implying his friends in Washington DC would protect him. Noyes refused to enforce the court orders from the 9th District, stating that it was now out of his jurisdiction and he had no control over McKenzie.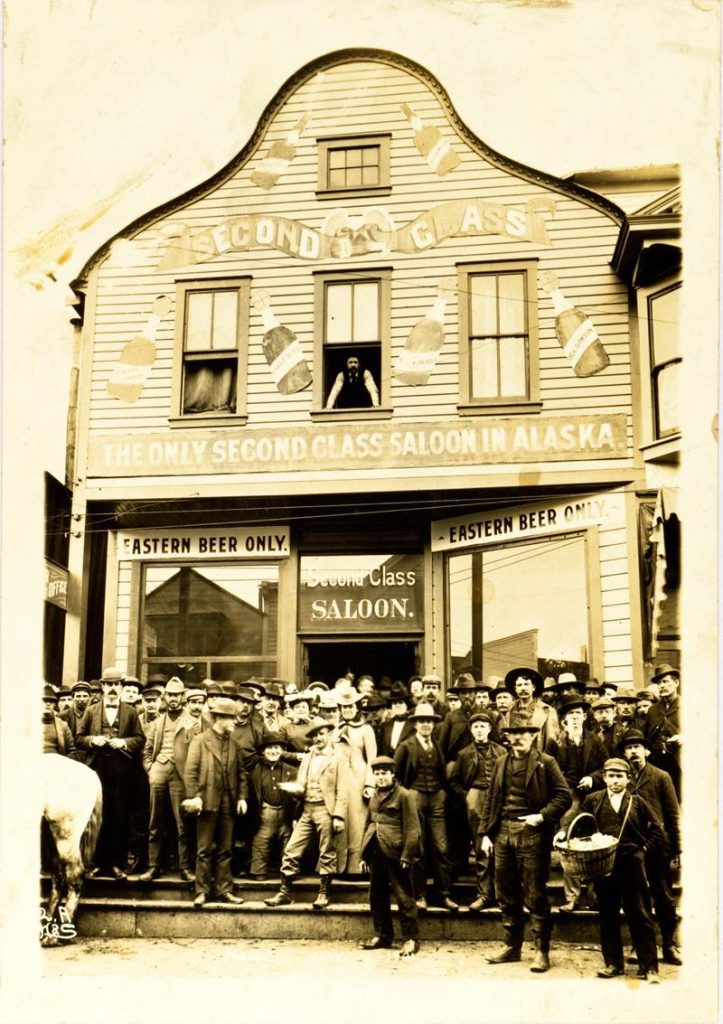 When McKenzie refused to follow the court order, a posse of armed men from the Pioneer Mining Company drove his men off several of the Anvil Creek claims, reclaiming them. The dispute was boiling over in Nome with the small military detachment from St. Michael's trying to keep the peace and avoid bloodshed on the streets of Nome.
With the situation getting worse and McKenzie refusing to give the mines back, attorneys once again headed down to San Francisco to tell Judge Morrow that McKenzie was refusing to follow the order and Noyes refused to enforce it. They were racing to avoid the impending winter freeze of the Bering Sea. It would make the trip back to Nome impossible until the ice melted and leave McKenzie and his men more time to continue cleaning out the mines.
The Final Outcome
They returned on October 15th, with two Deputy Marshals from California to enforce the earlier order from the circuit court and with a warrant to arrest McKenzie. After McKenzie's arrest, he refused to open the bank boxes containing the gold he had illegally mined, as did the bank's president. The marshals broke into the boxes and returned the gold to the rightful owners. McKenzie was taken on the last ship out of Nome in 1900 before the harbor froze up. On 11 February 1901, he was found guilty of contempt of court and sentenced to one year in jail. He only served 3 months as he received a Presidential Pardon from President McKinley.
When the ship carrying McKenzie left Nome that night the owners and operators of the Anvil Creek mines all shot their guns in the air and celebrated the end of McKenzie's time in Nome.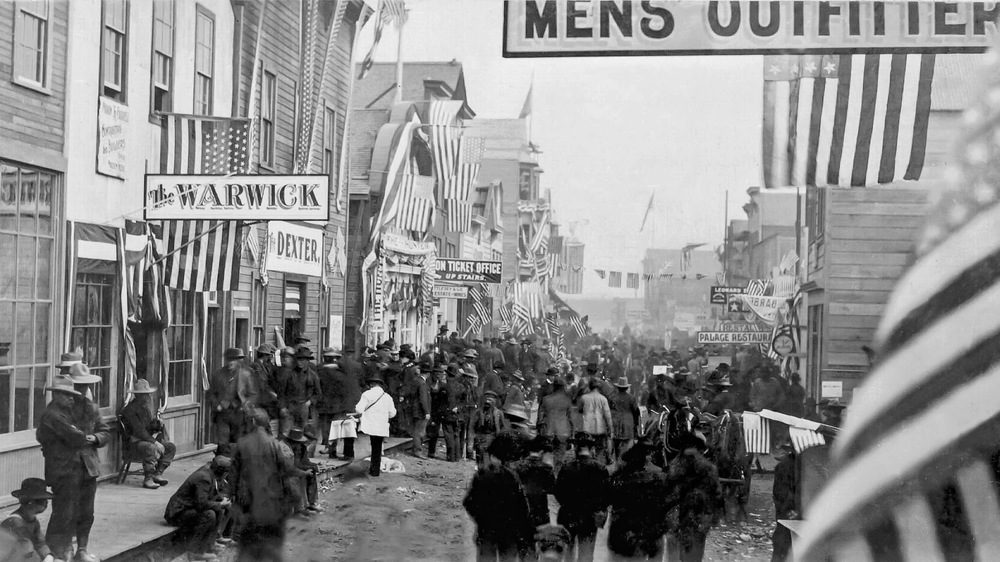 Judge Noyes served until 1902 when he was convicted of contempt of court and fined $1000. President Roosevelt removed him from office. He never served a day in jail for his part in McKenzie's plot.
Many have concluded that the men got off so lightly due to their Washington connections. It's believed that McKenzie illegally mined over $600,000 worth of gold from the stolen mines in the 3 months that he had control of them. While most of it was recovered, there are still some who contend that he took more than that and it ended up in the pockets of his Washington DC friends.